Factory introduction
■ Nagoya 1st Factory

■Main Equipments

NC Lathe, General Purpose Lathe,Vertical type Lathe, Marking Machine, Press-in-Machine.M/C, Bench Lathe, Drilling Machine, NC Milling Machine, Cutting Machine, Polygon Machine, Single-function Machine, Washer, Automatic Washing Machine etc.
■Main Pproducts

Electrode for welding (Small lot of round-bar product), Special Cap Tip, Shank, Threaded Adapter, Electrode for Projection, Holder, Seam Electrode, etc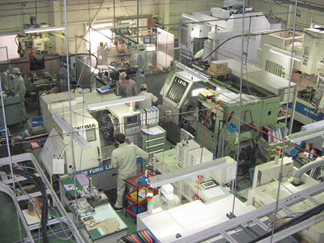 ■Comment from factory staff
Nagoya 1st factory was established in 1991 as a first owned factory and later was transferred to Kiyosu City adacented to Nagoya City in 2002 and until now.
As a Mother factory of manufacturing department, we are operating with Manufacturing Head Office, Production Control Division, Inspection Section, Manufacturing Section.
As a specialized factory of round bar products, main equipments are combined NC lathe, full automatic production of W axis combined lathe with bar feeder, Vertical lathe for big size products.
According to the processing products size we prepared several machines to comply with small lot production of many products and could  a flexible delivery requirements.
Average worker's years are young and we are trasferring for engineering and technology and/or multi-skiled operators upbringing as a theme of human technology by leader and senior personal coaching.
As a manufacturing factory of a maker, we are challenging the procession of products for the purpose of customer's satisfaction with all the staff with a smile at everyday.
 ■ Nagoya 3rd Factory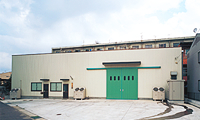 ■Main Equipment
Vertical M/C, Horizontal M/C, General Purpose lLthe, CAD/CAM, Cutting Machine, Three-dimentional Measurering Instrument etc.
 ■Main products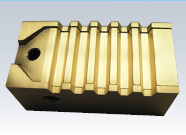 Chil-vent etc many products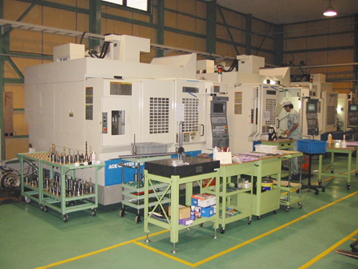 ■Comment  from factory staff
  Nagoya No.3 factory was established mainly for the products of Chill-Vent in 2001 at Kiyosu City.
The chill-vent for a gas venting passage of Aluminium die casting is generally used with SKD materials.
The chill-vent is beryllium copper alloy with high conductivity ratio.
The Becu alloy materials are high cooling characteristic and very few trouble of blow out  or products failure due to gas remaining.
Also, the burning of aluminium or sticking are decreased and various effective are expected.
As the required precision is very severe and thermal expansion of copper alloy is very large, our factory temperature control is always 22℃±3℃ through the year.
By the machining process as a basis of CAD/CAM, we can maintain higher quality due to a stable process production and verification by three-dimensional measuring instrument.
We are also processing other square bar electrode than chill-vent with this factory's specialized technical characteristic as " Responsible production supplier ".
■ Kyushu Nakatsu Factory

■Main Equipments
General Purpose Lathe, General-purpose Fraise, NC Lathe, Automatic Cutting Machine, Lathe for second processing, Contour, M/C, Single-function Machine, Drilling Machine, Press-in Machine, Marking Machine.
 ■Main Products
All kinds of electrode for welding (Round bar, Square bar)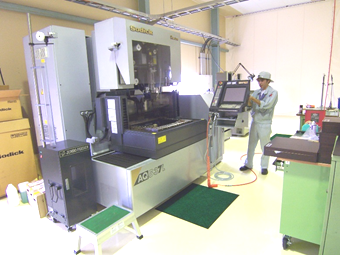 ■Comment from factory staff
 Nakatsu Factory was established in october 2006, responding to the demand of production at the demand place due to a shrply increased various companies moving in the Kyushu Area and until now.
Nakatsu City have the Nakatsu Castle which was headquarters of 「Kuroda Kanbei 」 who was introduced in NHK Taiga Drama and also various famous persons appearing one after the other like  「Mr. Fukuzawa Yukichi 」 as thinker .
In the neighbouring places, Yabakei which have many picturesque scenary like [Blue Cave Entrance] and also had a wealth of nature such as a mudflat in the mouth of the Yamakuni River .
Our tender-hearted female staff grown up in this wealth of nature and engineering staff of Kyushu danji are trying everyday to produce various much better products joining forces of all members.
■ Aichi Okazaki Factory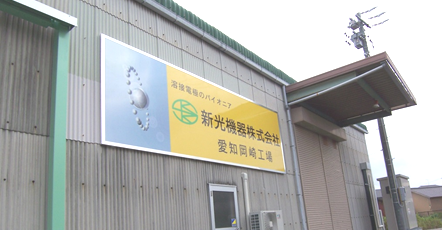 ■Main Equipments
Flat Surface Grinder, Wire EDM, General Purpose Lathe, Milling Machine, Contour, Brazing Facility, NC Lathe, M/C
■Main Products

Various products of Tungsten electrode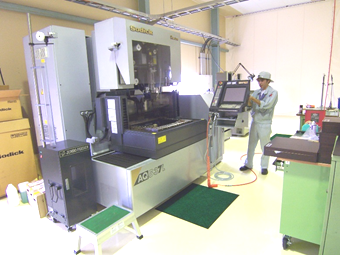 ■Comment from factory staff
Okazaki factory was established in the near place of JR Okazaki station which was in the south of Okazaki Castle borned place of " Tokugawa Ieyasu-Ko " in August 2007 as a manufacturing factory of Tungusten, Molybdenum electrode products.
It is said that pure tungusten, pure molybdenum are difficult to process, but we are trying our best to achieve a customer's satisfaction by precious process, brazing process by high frequency heating equipment with vibration cutting equipment, throughly material management.
■ Gifu Seki Factory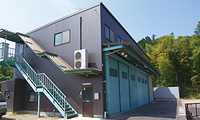 ■Main Equipments
Automatic Lathe etc
■main Products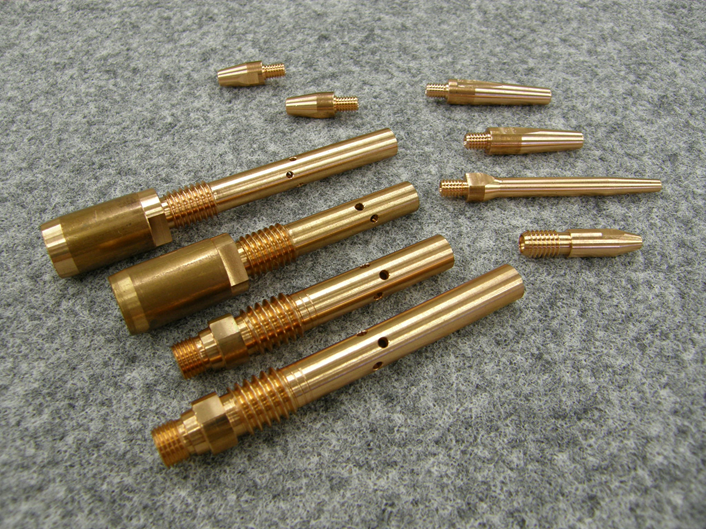 Electrode for arc welding ( Contact tip, Tip Body etc )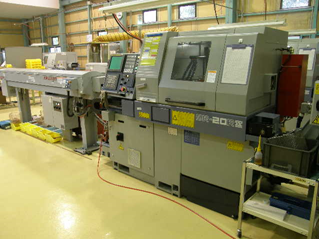 ■Comment from factory staff
Gifu Seki Factory was established in April, 2004 s contact tip manufacturing factory.
The factory was placed in the south of Seki City of Gifu Prefecture, which was [ World's 3 Biggerst Knife Manufacturing Industrial Cities ] lined up with Soingen of Germany, Sheffield of Great Britain, under the atompspher like a nature-rich country lifestayle surrounded mountains.
We are processing various kinds of contact tips and base tips etc.
In mind of Slogan of company [ To supply our responsible products as a maker }, we are manufacturing with united all the employees of factory.